NDIS Review Conversation Series: Paper No. 6
Balancing natural and formal safeguards for effective oversight
Key points
Safeguarding means both preventing harm and enabling people to live good lives

All the most valuable things in our lives involve risk, therefore we must enable risk to advance the life chances of Australians living with disability

Effective safeguarding requires a mix of natural informal safeguards and formal regulatory, compliance, and reporting mechanisms

Informal and formal safeguards must be both proactive and reactive

The NDIS must give greater attention to supporting participants to access natural informal safeguards within their local communities
---
Effective safeguarding requires us to ensure 'bad' things do not happen to people and that 'good' things do. Often, there is a tendency, with well-meaning intentions, for concerns about the former to overwhelm the latter. But the quality and nature of a person's life must be at the forefront of effective safeguarding. When we worry too much about what could go wrong, we can inadvertently remove what is most valuable from people's lives. We must invest in supporting people to live active meaningful lives characterised by an array of freely given relationships of mutual support that create natural safeguards for people within mainstream community life.
The best way to ensure effective safeguarding of people living with disability and oversight of providers, workers, and others operating within the National Disability Insurance Scheme (NDIS) is through a combination of both natural informal safeguards and formal regulatory, compliance, and reporting mechanisms. Recent prominent examples of safeguarding failures have involved shortfalls in both informal and formal safeguards leading to devastating consequences. This is true for both individual cases, such as the tragic death of Ann Marie Smith in 2020, and for systemic failures like those highlighted in the NDIS Quality and Safeguards Commission's 'Own Motion Inquiry into Aspects of Supported Accommodation' report about 'group houses' released in January. We must invest in both informal and formal safeguards and recognise that neither will be enough on their own.
In this sixth paper in our NDIS Review Conversation Series, we focus on the nature of effective safeguards for people living with disability. We emphasise the importance of understanding risk as being a key part of pursuing the good things in life and, therefore, not something to be eliminated from the lives of Australians living with disability. It is a combination of informal and formal safeguards that can mitigate the risks in people's lives without stifling what is valuable to them. These safeguards must have elements that are both proactive and reactive in order to provide assurance that people will lead lives free of violence, abuse, neglect, and exploitation.
What do we mean when we talk about 'safeguarding'
Safeguarding should never be just about preventing 'bad' things from happening; it must also be about enabling and maintaining the conditions that ensure 'good' things emerge in people's lives. We must prevent violence, abuse, neglect, and exploitation of Australians living with disability and we must advance and defend their valued roles in community life. Safeguarding in the NDIS should include three key elements:
upholding the choice and control of each participant;
funding transactional supports that are what the person needs, helpful, and not harmful; and
investing in transformational change that lifts each person into meaningful valued roles in community life, enables genuine connections and relationships, and maximises authentic social and economic participation.
When we talk about safeguarding, it must always be about how people are supported to move forward in their lives, reach their potential, and take up valued roles in community life.
Reframing risk
Everything that is meaningful to us in life, everything that is worth fighting for, involves risk. If we only worry about what could go wrong, we lose the possibility of building good things in our lives. To live a good life is to accept and mitigate risks, not to eliminate them. Enabling risk leads to greater quality of life, wellbeing, personal growth, and development of new skills. We must place risk into the context of ordinary life chances and the core NDIS values of individual choice and control. It is ordinary to take risks. We willingly take on risk, for example, when applying for a new job, or asking someone out on a date, or going somewhere new, or speaking up about something that feels important. It is not the presence of risk in these situations that is the issue, it is how we plan for that risk. If a person wants to be completely safe from the risk of disappointment of a job rejection, that person simply avoids applying for jobs. But that, of course, also removes the possibility of a good outcome. Preparing well for a job interview is no guarantee of avoiding the disappointment of rejection, but it is a better option than simply not applying.
This is the difference between safeguarding and safety. Safeguarding is the means by which a person seeks to understand and plan for risk so they may pursue a meaningful goal. As such, the pursuit of a good life is the context. Safety, on the other hand, is often presented as its own context; safety measures are being taken so the person can be safe. While there is nothing wrong with the idea of being safe, if approaches to safety are not undertaken in the context of good life chances, those safety measures can serve to hold the person back, or even actively diminish their chances of a good life. This happens a lot for people who are labelled as having 'behaviours of concern' resulting in 'restrictive practices' being a feature of their support arrangements. More on this in a future paper in this series.
As we have written previously, the emphasis of the NDIS should be on enabling positive risk taking and maintaining a common-sense approach to duty of care. When we have a duty of care, there are two possible pathways available. We can take the 'low road' where the context is a person's disability, which is considered a 'problem' to be managed to ensure 'safety' through security measures resulting in custody-like arrangements that render the person invisible to their community. Or we can take the 'high road' where the context is a person's right to a meaningful valued life, and we build to this through 'safeguards' that enable opportunities leading to inclusive arrangements that lift a person's participation and belonging in community life. It is this high road that provides the stronger assurance 'bad' things will not happen, and 'good' things will.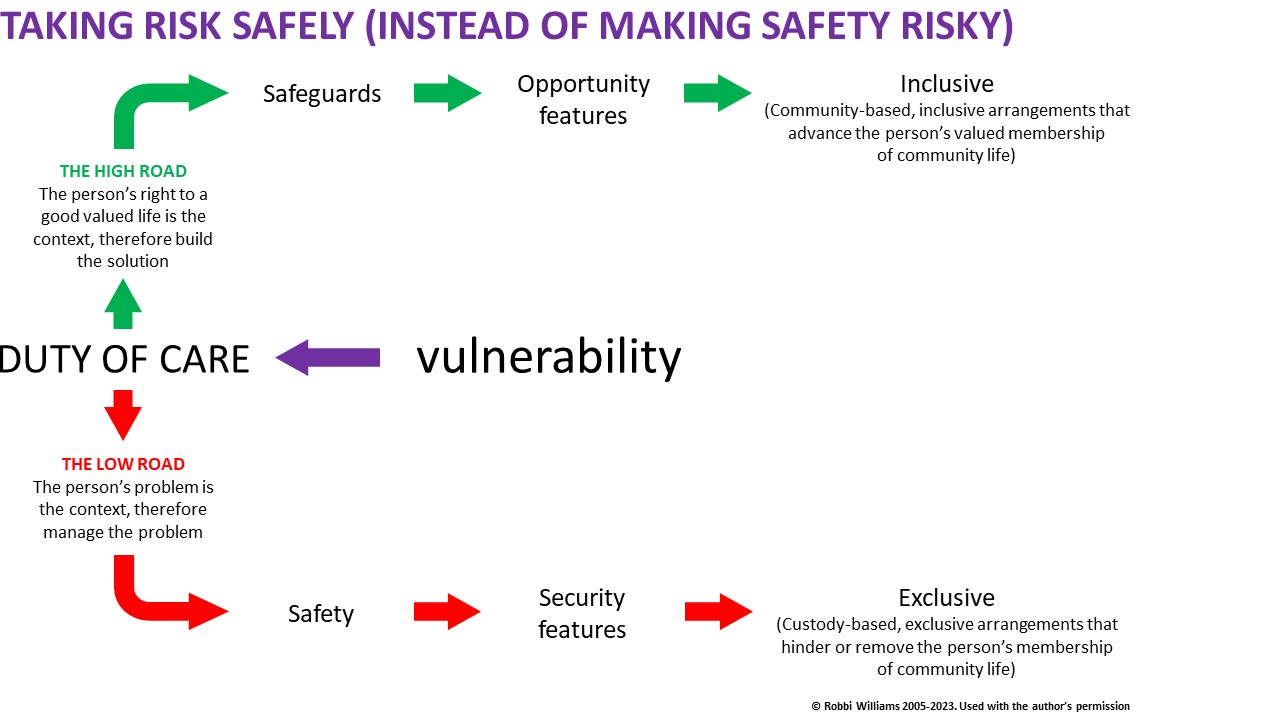 Investing in a simple integrated safeguarding framework
The NDIS Review panel has released an issues paper foreshadowing the need to 'reset' the approach to safeguarding in the Scheme to deliver more effective outcomes. As the first and so far only issues paper released by the Review, it is clear the question of how to improve current arrangements is a high priority for recommendations. We believe this 'reset' should elevate the status of informal safeguards so they are given the same weight as formal safeguards. There should be a much greater emphasis on proactive safeguarding to rebalance the focus given to reactive processes. The new framework should underscore the responsibility of the National Disability Insurance Agency (NDIA) to proactively invest in high-quality supports in participant plans that genuinely develop and sustain each person's natural freely given relationships and community connections. Similarly, it should ensure mainstream services and systems do the same so people living with disability who are not eligible for individual NDIS plans do not fall through the cracks.
The NDIA and NDIS Quality and Safeguards Commission recently collaborated to release a new Participant Safeguarding Policy. The stated purpose of the policy specifically excludes safeguarding strategies for 'cohorts or types of risks' and does not address if or how such strategies will be developed. This policy document should be comprehensive and have practical application for cohorts, such as people living with intellectual disability, people living in group houses and other closed systems, participants who self-manage, and others, as well as cover the full range of risks, not just repeat generic references to preventing 'violence, abuse, neglect, and exploitation'.
If further separate documents are to be developed to cover these, then this continues the highly problematic practice of the NDIA producing excessive layers of documentation that only serve to create unwarranted complexity and confusion, make the Scheme more inaccessible, and ultimately undermine the safeguarding of people living with disability. As we have stated throughout this NDIS Review Conversation Series, simplicity must be restored to the Scheme if it is to fulfil its original promise. Safeguarding is best achieved when it is anchored in a straightforward principles-orientated framework with a single layer of supporting practical policies. Safeguarding will not be advanced through the layering of every possible iteration of documentation – legislation, rules, codes, frameworks, policies, applied principles, operational guidelines, practice guides, operating procedures, strategies, factsheets, inter alia – where the core messages are inevitably lost.
Importance of natural informal safeguards
People are more likely to be safer when they are connected into their neighbourhood and local community. Being an active member of local community life, and the mutually valued relationships that emerge from that, is a compelling safeguard. Freely given relationships of mutual support and benefit offer the greatest protections and safeguards for us all, and it should be no different just because the person lives with disability. As set out in our Model of Citizenhood Support, this mutuality is termed 'Social Capital' and is critical to our life chances.
Natural safeguards are reciprocal. Therefore, the focus cannot just be on building the capacity of people living with disability to 'make friends'; rather attention must be given to the contexts and conditions that create opportunities for genuine reciprocal relationships to emerge. Natural safeguarding also requires diverse informal relationships and community connections. Therefore, we must eliminate all forms of segregation where the context and conditions are such that they prevent the development of a diverse range of natural safeguards.
Natural informal safeguards are not separate to or outside the remit of the NDIS. The NDIS has a critical role in investing in transformational supports that create opportunities for genuine freely given relationships to emerge. Such opportunities include those that arise from funding authentic social and community participation rather than 'community tourism', as we highlighted in the fourth paper in this series. Similarly, the Joint Standing Committee on the NDIS made 30 recommendations regarding the NDIS Commission in 2021 with the Albanese Government this year supporting 21 and referring nine to the NDIS Review. Among those referred to the Review are consideration of how to improve access to and strengthen natural safeguards and the need for increased proactive safeguarding approaches. Proactive engagement with natural safeguards will help ensure people are supported to move forward with their lives, while reactive safeguarding can occur when these same informal connections have a line of sight on what is happening in a person's life.
Formal safeguards for assurance and accountability
Formal safeguards by themselves will never be enough to protect people living with disability in isolation of strong natural informal safeguards. But they still have critical roles to play in providing assurance and accountability within an integrated safeguarding framework. Purposeful regulatory, compliance, and reporting mechanisms are all essential to the proper functioning of the NDIS. These need to cover proactive mechanisms, such as worker screening and organisational auditing, and reactive measures, including complaints procedures and incident investigation processes. Both the NDIA and the NDIS Commission have responsibilities to provide oversight of participant welfare and of organisations and individuals delivering supports and services funded by the Scheme.
Critically, 'auditing' a disability support provider to make sure it is compliant with quality and safeguarding expectations must go beyond a review of documentation. Observation is much more important. Formal safeguards must include people visiting service sites to observe what happens there and to speak with service recipients. This is more likely to reveal the character of the service, much more so than the presence of relevant documentation. Importantly, these visitor teams should include members living with disability.
Call to action: stepping up, not standing by
Each of us has a role to play in safeguarding others in our communities. We can be part of natural freely given relationships of mutual support with our family, friends, neighbours, colleagues, customers, teammates, and general acquaintances. We can say hello, engage in conversation, ask people what they need or want, respect decision-making rights, and follow up when we miss someone's presence. We can speak up when something does not seem right, not just stand by. We can ensure that the voices of Australians living with disability are elevated and heard in public discourse so that human rights are upheld and barriers in community life eliminated.
The NDIA should take a stronger role in elevating a national conversation about the importance of embedding informal safeguards in the lives of all Australians, as well as how we all have a role to play in ensuring people living with disability are included in these natural freely given relationships in our communities. Further, the NDIA should regularly explore the extent to which Social Capital is present in a person's life (we argue this should be a key NDIS outcome) and ensure NDIS funds are targeted at efforts that authentically build the person's take-up of valued roles in community life for the belonging and the natural safeguards that flow from this. NDIS funds should also target methodologies like Circles of Support that can help build connection and Social Capital in people's lives.
Conclusion
The core aim of safeguarding should be to create and defend the meaningful valued roles of each person living with disability in community life. People who are isolated from others are always at far greater risk of violence, abuse, neglect, and exploitation than those with diverse networks of freely given relationships that form strong mutual safeguards. The NDIA should proactively engage with participants to understand the extent of a person's freely given relationships and invest in what is needed for each participant to create and maintain natural informal safeguards in their life. Alongside informal safeguards there must be purposeful formal regulatory mechanisms that provide assurance and accountability in aspects of how the NDIS functions. Safeguarding in the NDIS must involve a combination of informal and formal safeguards that are both proactive and responsive. This can form the basis of a new simple integrated safeguarding framework to underpin the 'reset' that the NDIS Review issues paper is calling for.
In the next Paper in our NDIS Review Conversation Series, we will focus on the important role the NDIS should fulfil in addressing the significant discrepancies in employment outcomes for Australians living with disability compared to non-disabled people.
► Join the conversation at our

To The

PO

int

webinar

Tell us what you think about safeguarding in the NDIS, share your ideas for reform, and help raise expectations about what the NDIS Review can deliver at our sixth To The POint webinar on Monday, 8 May 2023 at 12:30pm ACST (that is, 1pm AEST and 11am in the West). The webinar will run for 45 minutes and feature Robbi Williams, CEO of JFA Purple Orange, discussing this Paper. Attendees will have the opportunity to ask questions and provide their feedback on safeguarding and the NDIS.

Register to join the To The POint webinar here.

Join the conversation on Facebook:

www.facebook.com/groups/tothepointpurpleorange/

Plus, follow us on Linkedin, Facebook, or Twitter: @JFAPurpleOrange
► Our NDIS Review Conversation Series
With the NDIS Review underway, JFA Purple Orange is publishing a series of papers to help stimulate conversations about the future of the Scheme. Each fortnight, we will tackle a different topic of reform that we think is critical to the work of the NDIS Review. We strongly believe that the NDIS is an essential component of ensuring that Australians living with disability get a fair go at what life has to offer, but it must be strengthened and sustained. We are committed to playing a constructive role in developing ideas for reform that ensure the Scheme delivers on its original promise.
Watch out for Paper No. 7: Closing employment gaps essential for NDIS to fulfill its promise on Monday, 15 May 2023.
► About us
JFA Purple Orange is an independent social profit organisation based in South Australia that undertakes systemic policy analysis and advocacy across a range of issues affecting people living with disability and their families. We also host a range of peer networks for people living with disability including people living with intellectual disability, physical and sensory disability, younger people, people from culturally and linguistically diverse backgrounds, and people in regional South Australia. Our work is characterised by co-design and informed by a model called Citizenhood.
► Media enquiries
If you would like to republish this paper or interview Robbi Williams, CEO of JFA Purple Orange, about it, please contact Marissa on (08) 8373 3833 or email marissab@juliafarr.org.au.
Previous: Topic 5 - Imagining more in NDIS home and living options
Next: Topic 7 - losing employment gaps essential for NDIS to fulfil its promise