International Women's Day 2022
This International Women's Day we are sharing stories of women living with disability who #BreakTheBias. Meet this year's nominees and learn more about amazing women who are passionate about advocating for the disability community!
---
1. Lauren Spear
Lauren is an Adelaide local and one of our Disability Inclusion trainers who has an acquired brain injury. She's passionate about using her background in education to change people's beliefs in brain injury and concussion. Lauren's personal experience drives her to advocate for people with brain injury, so that they don't go through the isolating experience alone. She organises Butterfly Hour, a social catchup in the Adelaide Botanic Gardens, where people can experience the healing power of being in nature while connecting with one another. It is her hope that Butterfly Hour grows and becomes a supportive space where everybody feels welcomed, no matter their differences or abilities.
You can follow Lauren on her blog, the Orange Butterfly.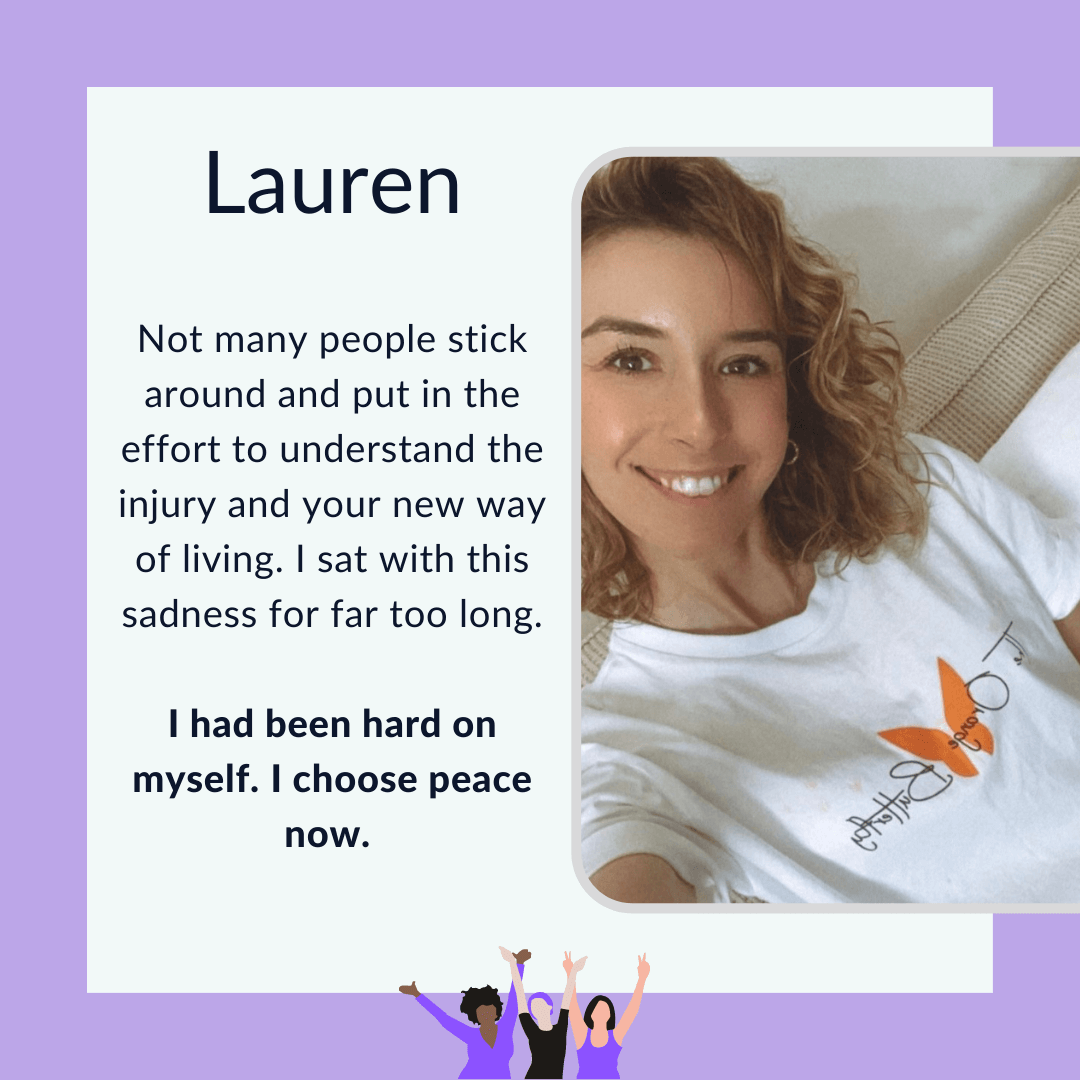 2. Tammy McGowan
Tammy's a proud autistic and ADHR'er whose passion lies in amplifying the voices of people living with disability to position themselves as experts of their own lives. Her children inspire her every single day and have taught her to be community minded, resilient, and persistent in advocacy. She actively supports people to recognise their own strengths, understand their value in society and address barriers to success in their lives.
Her goal is to see people with disability included in all decision-making opportunities in Australia. She's not active in the community in spite of her disabilities. She is active because she is disabled.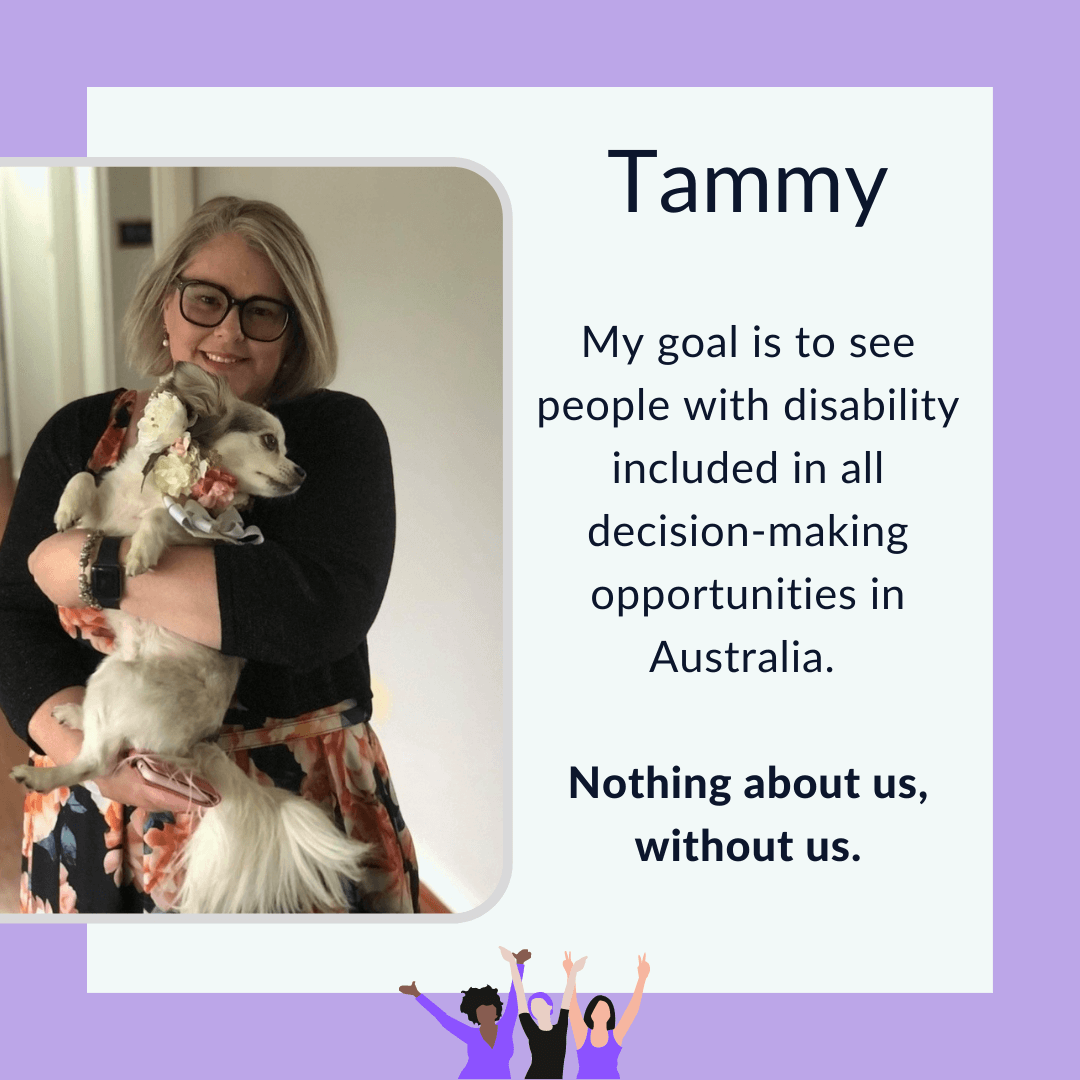 3. Lana Thrupp
Lana's a proud mum of two beautiful children. She is passionate about improving the lives of people living with disability and uses her creative skills to tell the stories of members in the Enabled Youth Disability Network.
Others may not realise that an invisible disability is always there and touches every part of someone's life. For Lana, her chronic pain and fatigue affects her social life, work, relationships, parenthood… even the way she approaches a trip to the hairdresser!
Lana's strength has not gone unnoticed by her sister, who nominated her this International Women's Day.
"People with chronic pain wake up prepared to expect the unexpected and make the best of what energy they have been gifted with that day. Showering, making dinner or picking up the phone all takes precious energy. On good days, if I rest enough in between activities, I will have enough to do something fun. On bad days I may have to cancel plans or borrow some energy from the next day, knowing I will need extra pain medication and recovery." - Lana
Lana's advice to people who know someone with chronic pain is to be kind. Instead of offering cures – which they have probably already tried – take time to learn about their life and make small adjustments to include them.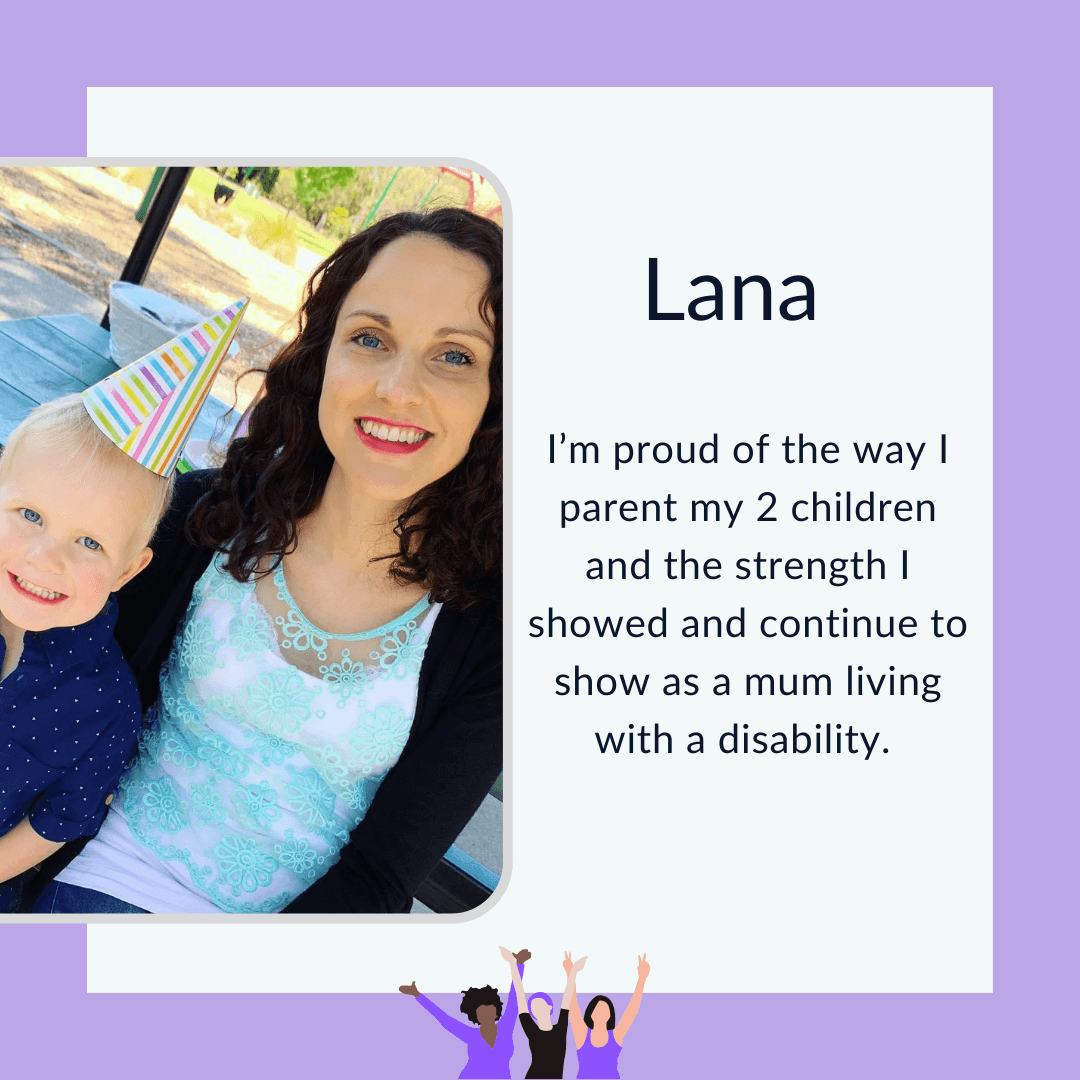 4. Akii Ngo
Akii is a gender equity, violence prevention, disability, chronic illness & accessibility advocate and consultant. Akii is a non-binary person and feels somewhat conflicted in their work & celebrations of International Womens' Day, so works within understanding that IWD is a day to smash the patriarchy and recognise all marginalised genders impacted by it.
The past 12 months alone have been extremely harrowing for Akii, having survived 4 bouts of sepsis and other complications as a result of their many severe chronic illnesses and disabilities, which they share openly on their Instagram here.
Akii shows the world how they can be a badass, passionate activist who lives their best life while advocating for prevention of violence, equality and equity for all, human rights for people of colour, Queer and gender diversity people". Akii regularly defies odds and they break the bias – travelling solo, doing what they love and makes them genuinely happy, while educating the world on accessibility and access needs. They are deeply dedicated to intersectionality and lived experience representation.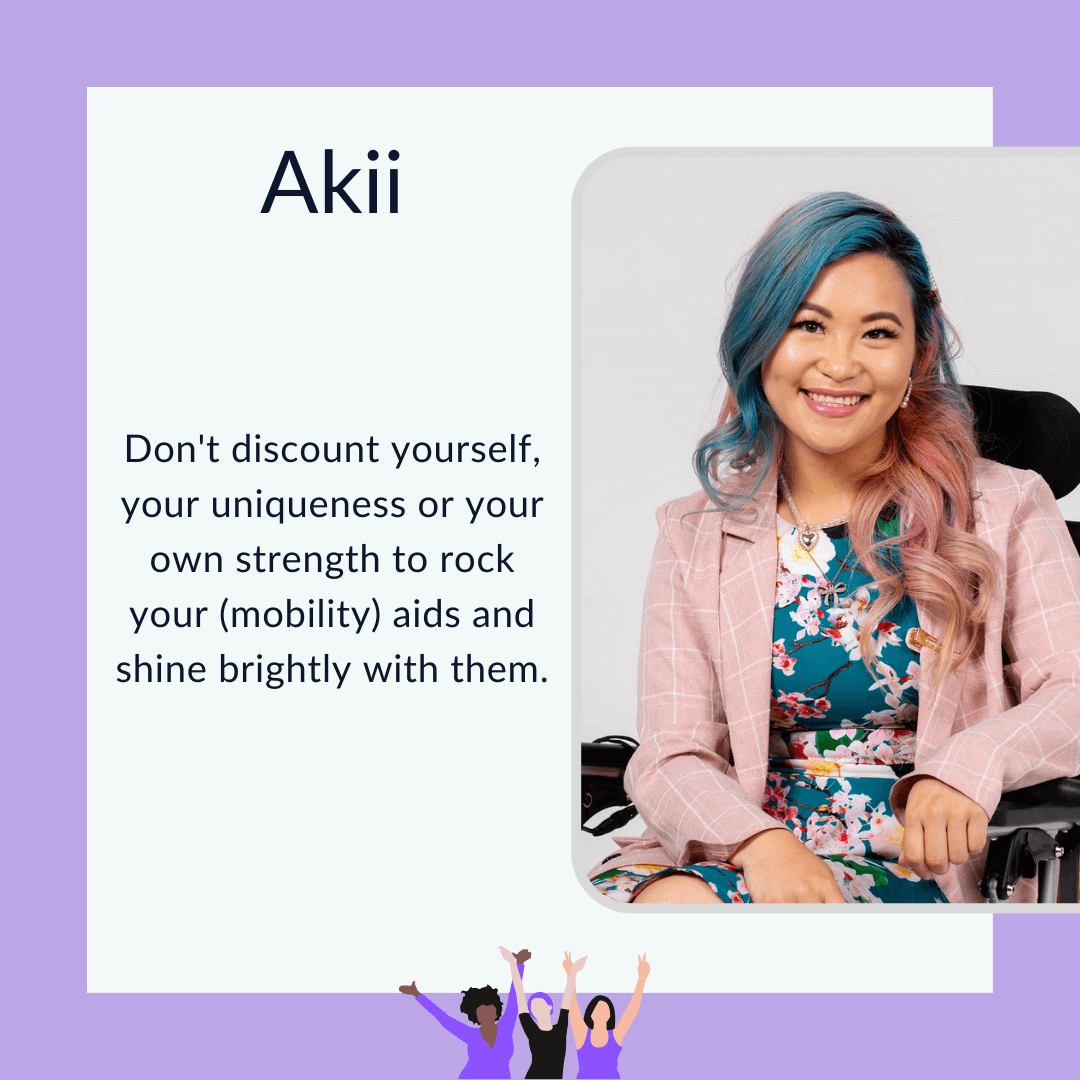 5. Daniella Biagi
Daniella is passionate about making a difference and breaking the prehistoric stigmas around disability through inclusive education. She has been a constant source of inspiration to those around her and is now a strong advocate of diversity and inclusion.
A big part of Daniella's motivation to advocate for inclusive education relates to the biases and prejudice she experienced and continuously overcomes as a female living with disability. This was particularly relevant in her early adulthood, when she was still trying to find her place in the world, which is challenging for all of us without adding the complexity she faced from society when living with a disability.
In Daniella's opinion, these biases and prejudices are avoidable through inclusive education. She uses her lived experience to act as a catalyst for change and remove the barriers faced by people living with disability in achieving inclusion, equality and better quality of life.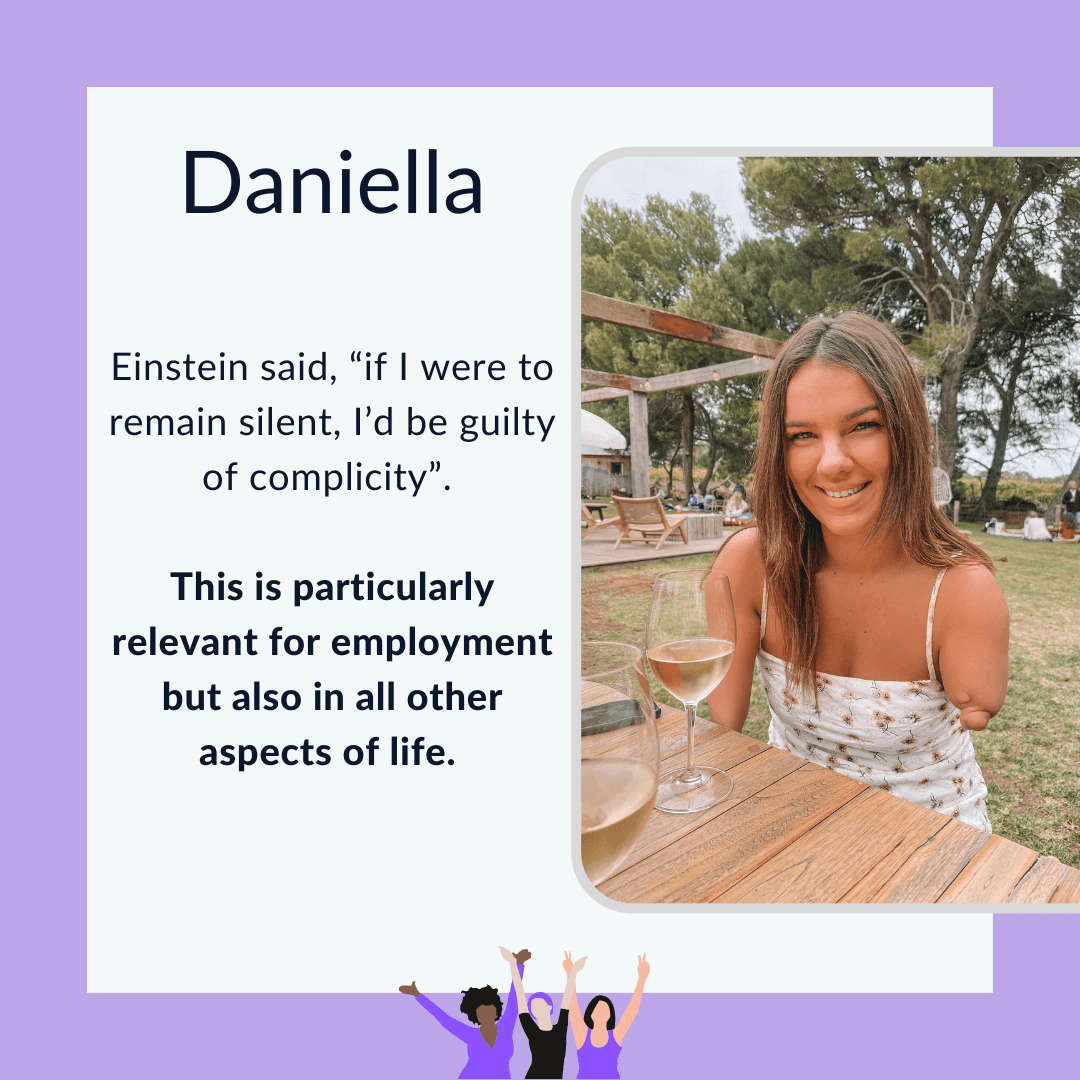 6. Dominique Evele
Dominique, is a registered nurse and the CEO of Amber Aged Care. She lives with a physical disability and is the co-chair of the Road to Employment Aged Care working group. Last year, Dominique's working group released a Traineeship program, employing 8 young people living with disability in the Aged Care sector.
Dominique wants to see more organisations supporting people with disability to succeed in the workplace. This is driven by her own journey after university and experience dealing with roadblocks by employers. She's proud of what her organisation has achieved with the Road to Employment. In fact, they've further grown their employment pool by hiring another 2 people living with disability in their kitchen and maintenance team.
Her hopes are to grow the Traineeship program in other organisations outside of Aged Care, by sharing the stories of current Trainees.
"We can all have disability accessand inclusion plans (DAIPs), but unless that's acted on, then we haven't done anything to encourage employers to recruit people living with disability."
Outside of work, Dominique was also a nominee for the 2000 Sydney Olympic Torch relay.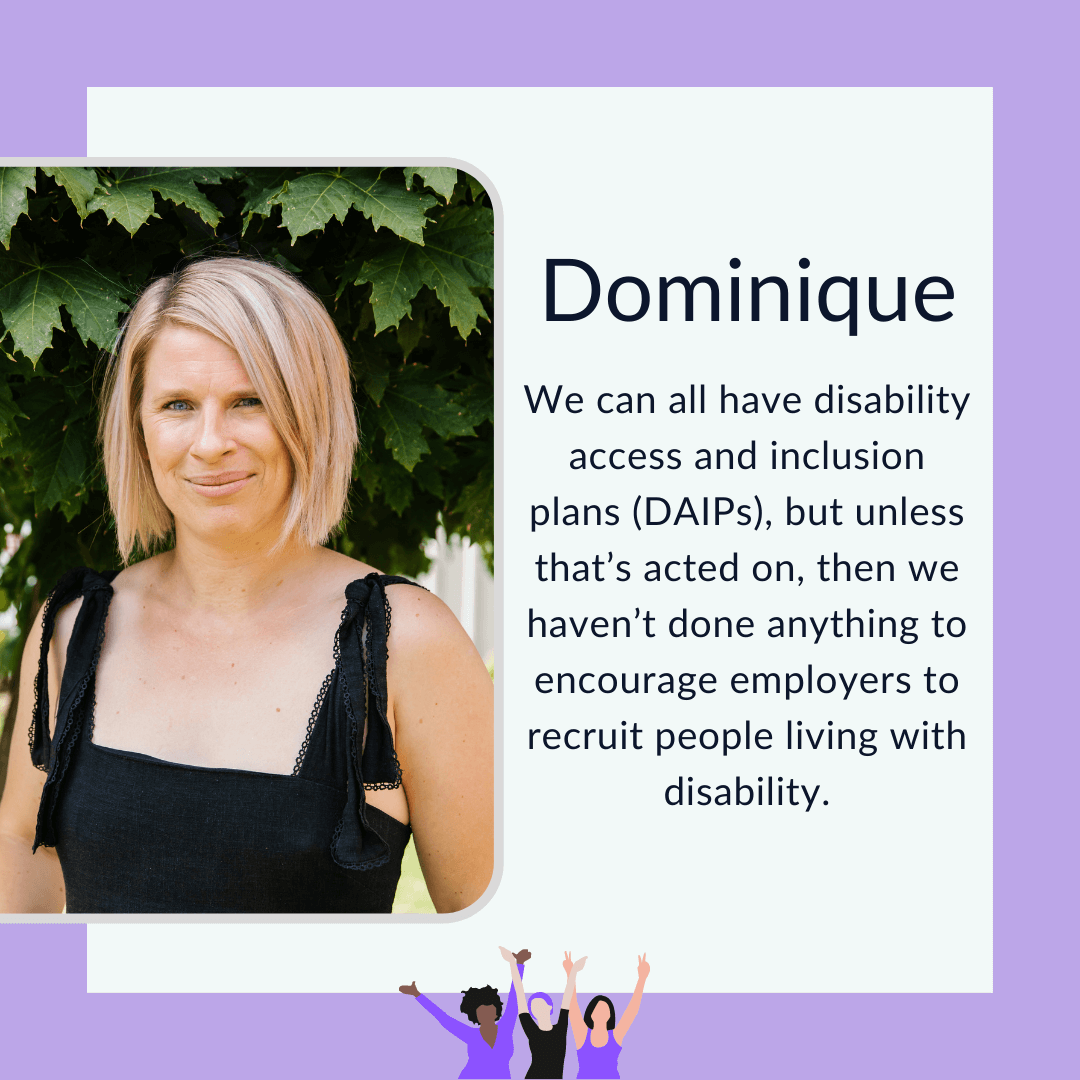 7. Bianca Luraschi
Bianca is an autistic female with complex trauma and an ADHR'r. They're a mum who runs their own business in disability and mental health support, with a niche in Emotional CPR and autism.
Emotional CPR is based on a foundation of mutual support, creating a connection between both people where they are both equal. Through E-CPR, a safe space is created where the other party is listened to and heard, as well as feeling validated and connected. Bianca's unique ability to see value in everyone, regardless of their situation, choices or traits is what attracts people to work with them to grow and shine.
"We all want to feel connected in a world that is not always made for an autistic individual. It's a beautiful and powerful concept to have someone there holding space and going through emotions without judgement or wanting to fix things." - Bianca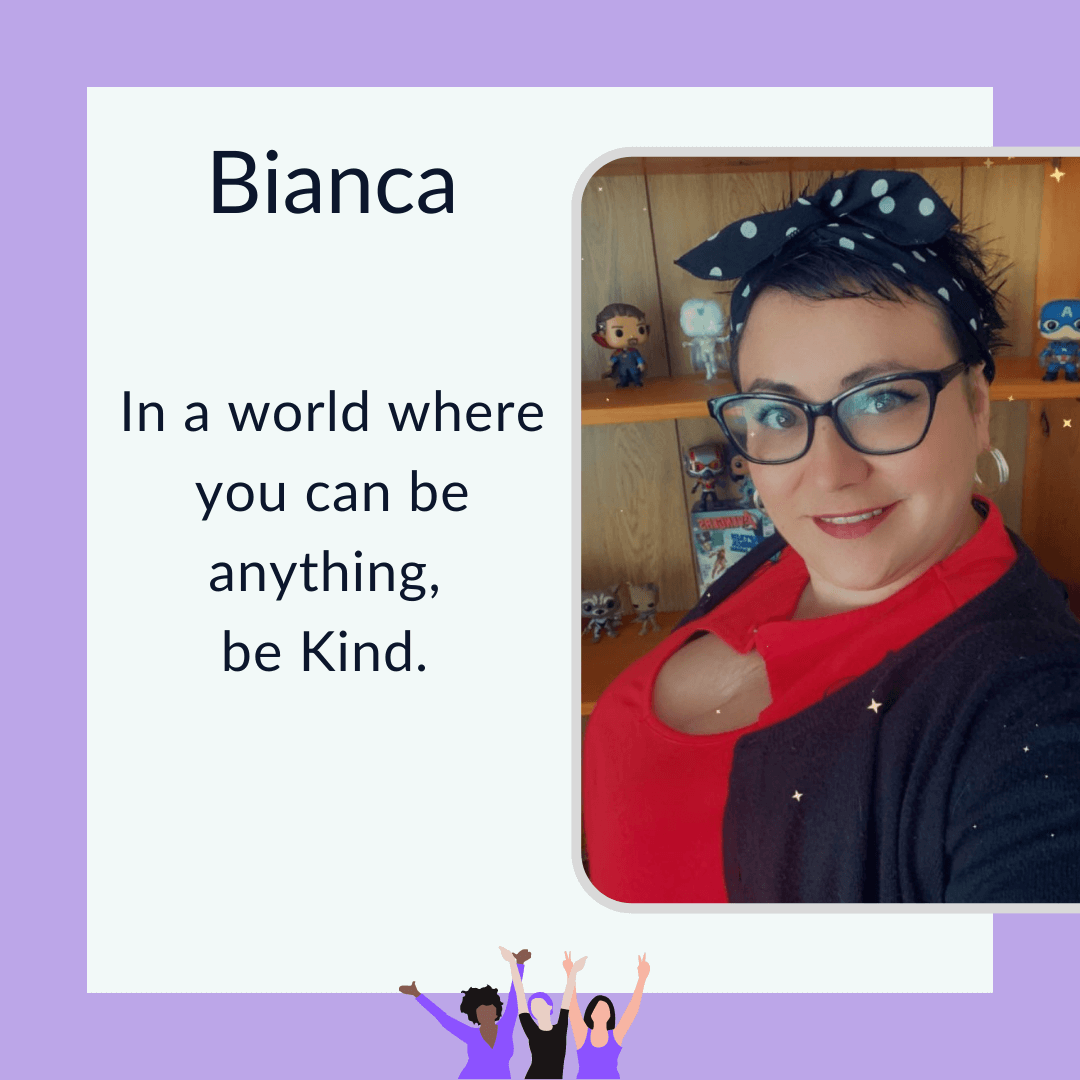 8. Belle Owen
Belle lives her life confronting disability bias, calling it out and making the world a better place. She cares deeply about social justice in all forms and always tries to learn and be a proactive ally to communities outside of the disability space. Her strong, empathetic and fearless attitude and years of experience involved in disability culture have led to her drive to advocate and build on the work of those before her.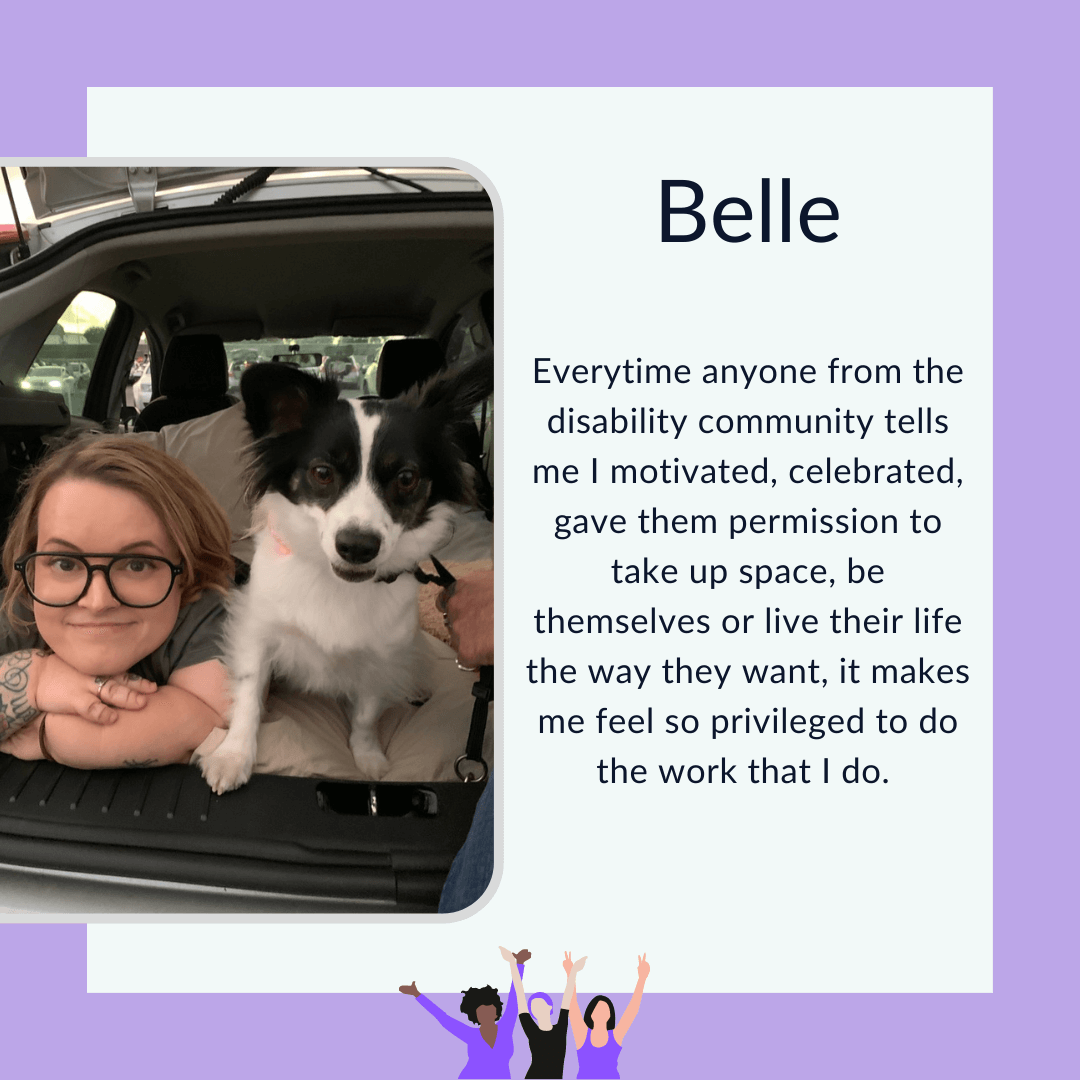 9. Elly Desmarchelier
Elly is an Australian writer and disability rights campaigner. She speaks fiercely on topics including the NDIS, gender equality and the economic participation of women with disability. The favourite part of her job is working alongside other women with disability, because no matter their age, job, or type of disability, every one of them is a leader in their own way.
Elly is grateful to be surrounded by a team of strong, fierce and kind women that have guided and supported her throughout her life. Elly's proudest moments in her career were achieved because she had a community of women, particularly disabled women who have shared their time and wisdom. To Elly this shows that nothing worth doing is achieved alone and she encourages other disabled women to build their own communities so they can grow from the support of others and share their wins with others along the way.