We Need to Talk About Sex
Click on the above link to listen to this audio story.
To download a transcript of this audio story story, click here.
Below is a written version of this story.
"If I can just get that one person to say, that's me too."
Christine Priest thinks we should talk about sex more often. Especially in the disability community, where it can be treated like it doesn't exist. Silence about sex caused Christine a lot of anguish.
"I went through suicidal thoughts, depression, anxiety," Christine openly shares. "I had a nervous breakdown because of it. All around sex. And I look back at it, I am not ashamed of it. If I can just get that one person to say, that's me too. Maybe I can get some help having sex, and looking after my own sexual health care."
Christine had to reach breaking point before she found a way to break through the stigma and assumptions that prevented her from seeing herself as a sexual being. She shares her deeply personal story with the hope of helping others before they hit that lowest low. Or if they already have, she hopes her story will help them see a way through.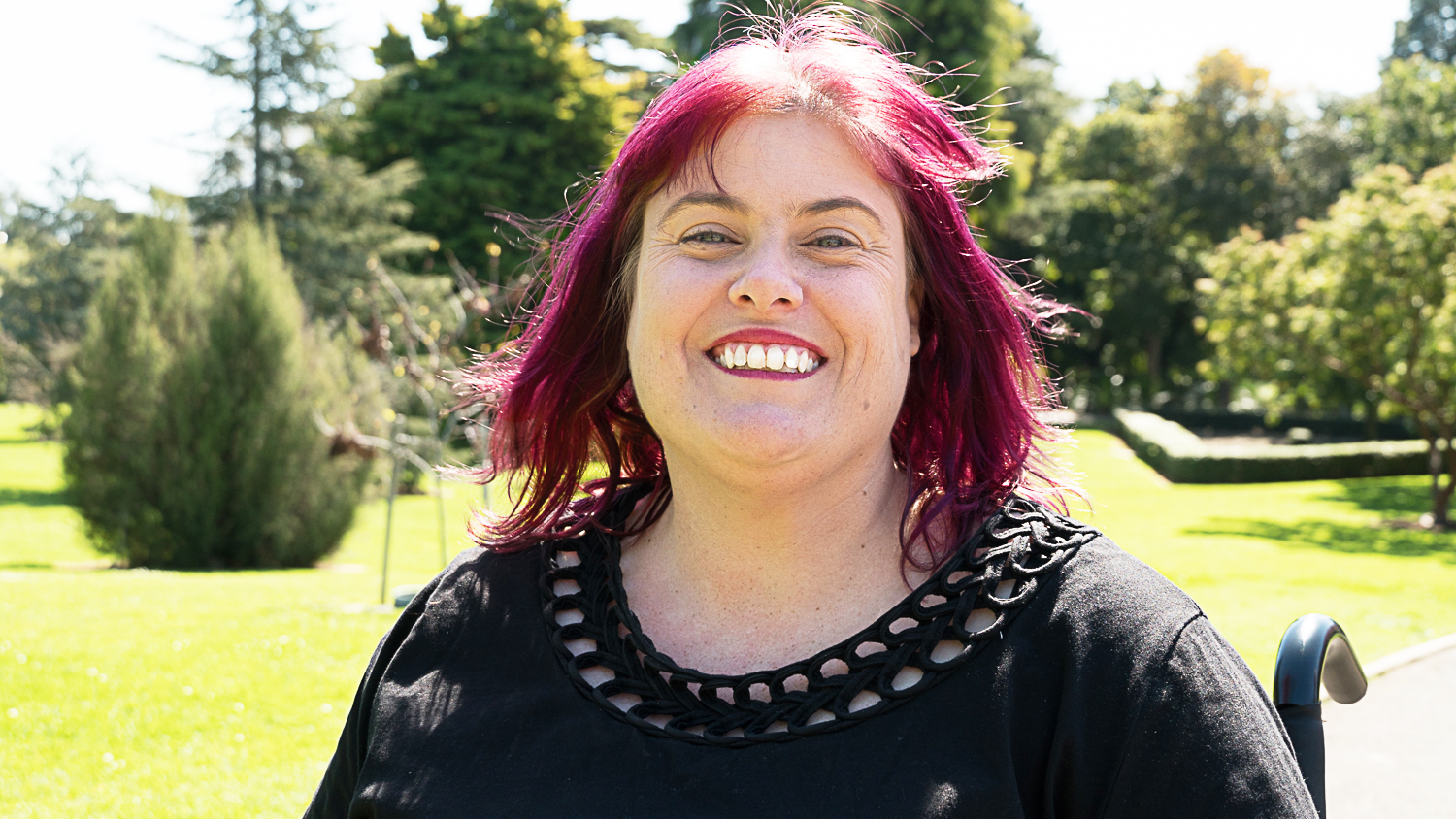 "We've got to smash through those assumptions."
"I didn't lose my virginity until about five years ago, and I'm now 40. I was very insecure. I didn't love myself. I hated myself because I never thought I'd have sex, never thought I'd experience an orgasm," Christine admits.
One of the reasons she didn't think these things were an option for her is that she had incontinence. But the bigger reason was that no one in her 35 years on the planet had ever talked to her about sex. She felt the world assumed she was asexual because she lived with disability. Because of this, she had been too embarrassed to discuss with any medical professional about how incontinence prevented her from engaging in sex.
"We've got to smash through those assumptions," Christine asserts. "It comes from the medical model of disability where we need to be fixed, we don't have desire for sex, we shouldn't engage in having kids, we shouldn't be having same sex relationships, or be transgender, or see sex workers."
So Christine kept all her feelings bottled up until she finally cracked. She ended up hospitalised for severe depression and suicidal thoughts. It was only after this, that a doctor finally broached the subject of sex while going through her medical history.
"He just treated me like another person. He treated me like a person! He forgot about the disability." Christine says this was life changing.
Finally she felt able to discuss her concerns. The doctor offered an immediate solution. He told her lots of people get a colostomy bag and they are still able to have a fulfilling sex life.
"That was a ding-dong moment in my brain!" From the way Christine speaks and waves her hands in emphasis, it's clear how momentous the moment she decided to get a colostomy bag was.
"Oh my god. It was the best decision. It's opened doorways for me. My self-esteem is out there. I can go out. Have a good time and not worry about it."
And so with the incontinence issue solved, her biggest worry was gone. But she still had other concerns.
"What would sex really feel like for a person like me?"
"I have spina bifida, and paralysis, would I be able to feel anything?
What would sex really feel like for a person like me? Would I actually be fulfilled?"
She still didn't feel able to discuss these concerns with anyone, but she was determined to find out. She soon met a guy at a shopping centre. They struck up a conversation. There was flirting. They exchanged details. The following weekend she went to his place on a mission.
"We just jumped into it and we had sex. That's all I wanted, to feel what it was like to have sex. Because I could."
It was an overwhelmingly positive experience.
"I love myself now."
"I can't say what is the normal experience because everyone experiences sex differently, but for me it was great. I could feel things. I experienced an orgasm, which was euphoric. We got no sleep that day mind you," Christine says with a cheeky grin.
I wondered when she told him she had a colostomy bag. Was that an awkward conversation?
"He did not find out until I was naked. He did not know. No. And he wasn't ashamed of it or anything. He was very open about it. It is not an identity. It is just another thing on your body. Who cares?" She shrugs.
It wasn't a big deal in the slightest. Not for him, and not for anyone who came after him.
"I love myself now. I am not saying that in a stuck-up way, but I really like who I am. The confidence went skyrocketing. That's how deprived I was of my sexual health."
All that pent-up embarrassment and shame she'd been holding went away. She realised there was nothing wrong with her. The problem was the way society had treated her as someone living with disability. There is a long way to go to change this. I've met many young people who were pulled out of sex education in school just because they live with disability
"It's baffling!" Christine yells out when I ask her about this. "People with disability do have sex and we need the knowledge and education to protect ourselves!"
You can hear the deep frustration in her voice as she explains the ongoing detrimental impacts of excluding people from sex education.
"If you don't have the education, it puts you at a higher risk of mental health, sexual diseases, sexual assault because some guy thinks she's vulnerable. You are disadvantaged, really disadvantaged and it shouldn't happen. Not in this day and age. Come on!"
"That is my calling in life."
Christine is now on a mission to create a world where all people living with disability feel safe and empowered to talk about sex. To do this, she not only wants to uplift and empower people living disability, she also wants to change society. She's currently studying a graduate certificate in disability with plans to do a research degree on sexual health and disability.
"I didn't have that person to talk about anything sexually related. I want to become that person you can do that with. I am interested in the sexual health side of disability, and working with health professionals, and officers of the court, police officers, and you know help to communicate better with people with disabilities and have this community where everyone feels safe talking about sex. That is my calling in life."