Advocate and Activist: Colin Hiscoe (Reinforce)
There is an empty champagne bottle, proudly displayed as a trophy, in the office of Reinforce, an advocacy group for adults living with intellectual disability. Everyone knows about this champagne bottle and long-time member, Colin Hiscoe, is happy to tell the story.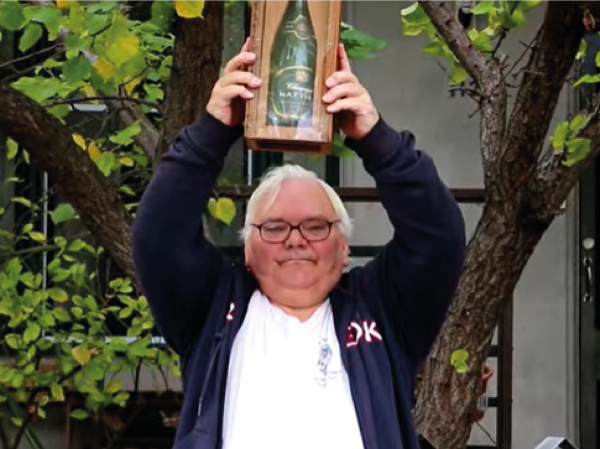 Image is Collin holding the champagne bottle trophy over his head in victory.
---
The property at 112 Drummond Street, Carlton was government owned but unoccupied. Reinforce applied to the government on multiple occasions to have the property turned into a shelter for people living with intellectual disability who were transitioning out of institutions or were experiencing homelessness. Each time, their application was denied. The government planned to sell the property.
"That's not good enough," Colin remembers thinking. "Bugger you. We're going to do something."
In what can only be described as iconic activism, the members of Reinforce searched all around the building, found a window, climbed through it and locked it behind them. They squatted in protest.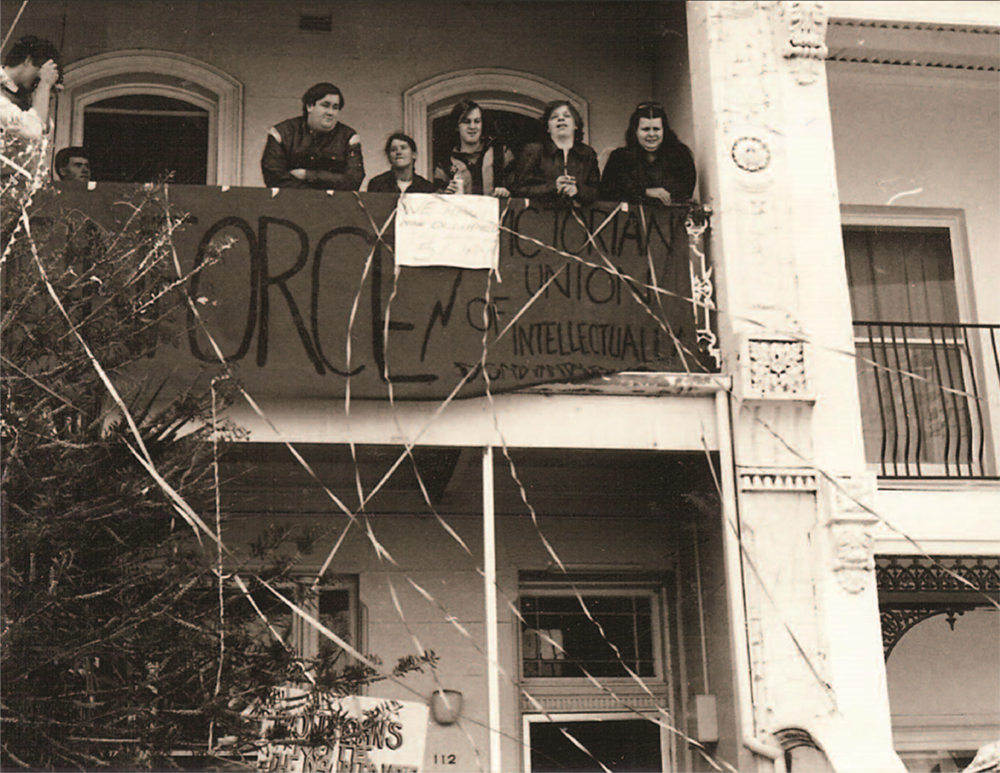 Image is of Reinforce protesters on the top balcony of 112 Drummond Street with a sign that says: "Reinforce: Victorian Union of Intellectual Disability"
---
People who Colin describes as government 'cronies' asked them to leave and even attempted to trick them into leaving. "They told us, 'If you come out, we will paint it and you can have it until the house gets sold.' But we knew it was a lie." They refused to leave the house, declaring, "No, we're not going to get out. We're using this for people who need it."
After a week of protesting, the Health Minister finally gave in and said they could have the property. They cracked open the bottle of champagne as the minister signed the property over to Reinforce. The minister shared a congratulatory drink with the happy activists.
Collin says the empty bottle is proudly displayed as proof that, "We did what we said we were going to do."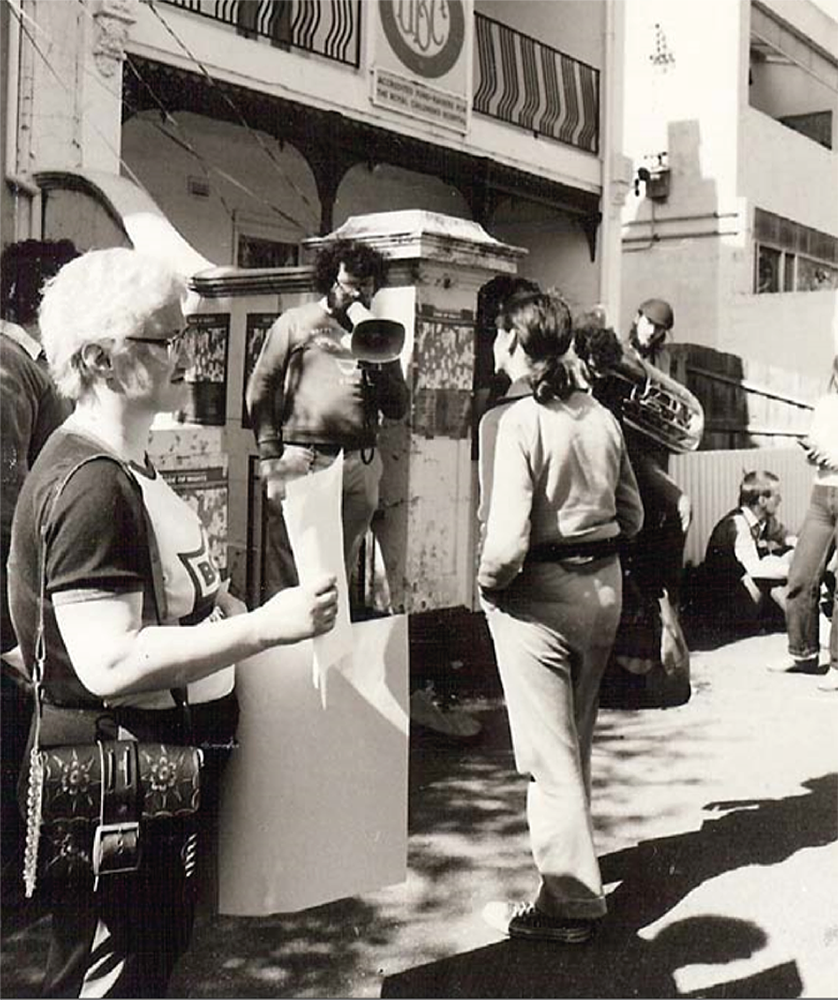 Image is of 112 Drummond Street protesters talking to passersby on the street.
---
Colin was first introduced to advocacy by a woman he was 'going with'. She sent him along to a conference about self-advocacy in 1982. At the time he wasn't familiar with any of it. He remembers feeling like he was "all alone in this very big world." At the conference he heard people speak about their experiences and he says it felt like, "Their story is my story. My story is their story." As if a boulder was lifted from his shoulders, he knew there was a group that he was part of. He finally belonged somewhere. He joined Reinforce, who spoke at the conference, and ignited his passion for advocacy and activism. Just months later, he was squatting at 112 Drummond Street, advocating for the rights of others living with intellectual disability.
The story of the Drummond Street Squat is just one highlight in Colin's long career of activism and advocacy. 35 years on, he is still as passionate as ever about the rights of people living with intellectual disability. He's travelled the world attending and speaking at conferences, sharing with others his hope for a world where everyone can do what they want to do.
It hasn't always been easy. Colin sees some very real challenges in the way of self-advocacy. He finds the information that people need in order to fight for their rights, often isn't easily accessible to them. When running training sessions, he worries about how many people will feel empowered to take action. "How many people," he wonders, "no matter how hard or how difficult it's going to be to do that thing, are going to do it?"
So how can you become a self-advocate and activist? Colin says you can start by asking for the reasons why you can't do something. And he adds, "Pretty please, don't give in. Don't bend to the demands of others. Please keep fighting for what you want and what you believe."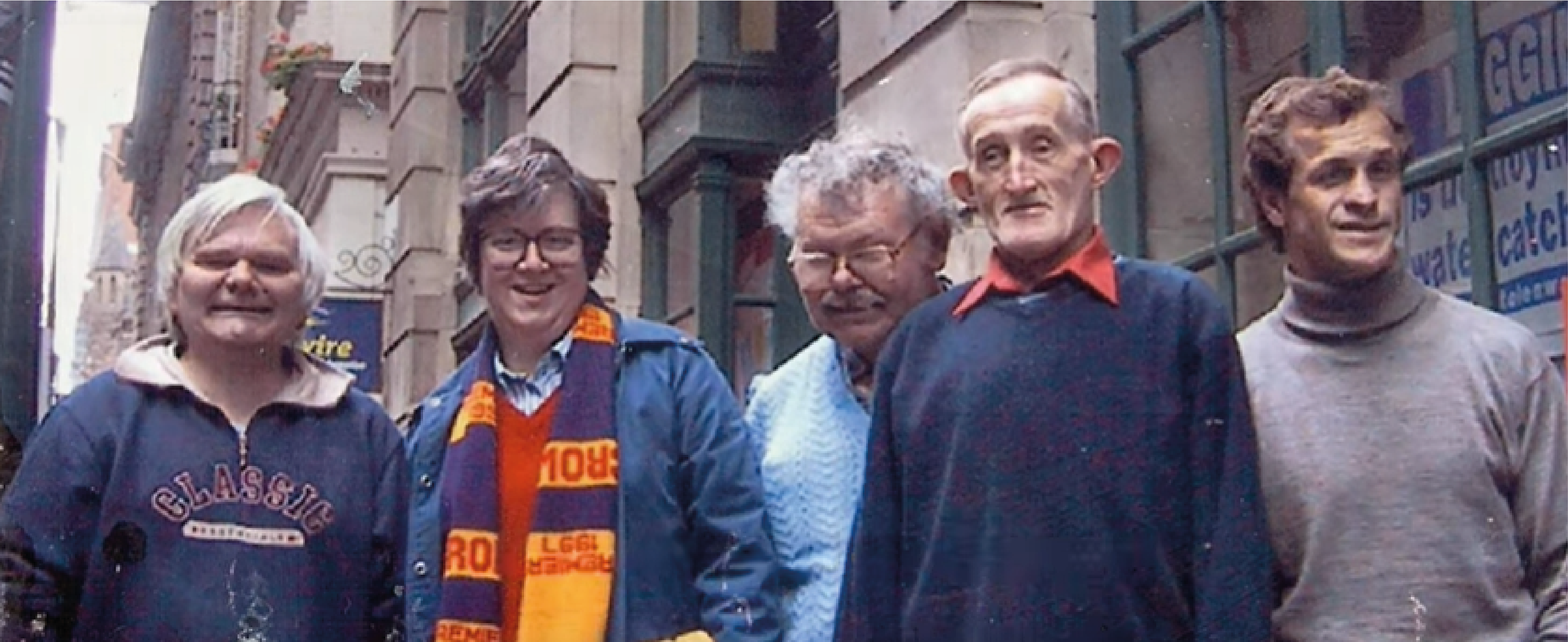 Image is of Reinforce members standing on the street.