Tourism Local Navigator Pilot Project

Tourism Local Navigator Pilot Project
Tourism Local Navigator Pilot project is funded by the Department of Social Services
JFA Purple Orange are pleased to be partnering with the Tourism Industry Council of South Australia on this project.
An outcome of the Jobs and Skills Summit in September 2022, the Disability Employment Tourism Local Navigators Pilot will test new ways to provide employers with information and resources about employing people living with disability, as well as connect job seekers with disability to meaningful tourism jobs.
Our aim is to support small and medium tourism businesses in recruiting, retaining and promoting employees living with disability.
The importance of employing people with disability
2.1 million Australians of working age live with a disability.
53% of working age disabled Australians are currently employed versus 83% of non-disabled Australians; a figure which hasn't moved in 30 years!
Barriers to employment include low expectations, negative attitudes and practices, and a lack of opportunities.​
How does it work?
By opting-in to our Business Mentoring program, Purple Orange will be able to assist your business in becoming ready to employ and increase workforce satisfaction for employees living with disability. We will do this by:
providing expert advice in supporting small and medium sized businesses,
leveraging existing networks and connections with employers at the local level,
assisting you to utilise resources such as Job Access and other supports,
connecting small and medium sized businesses to local employment service providers and potential jobseekers with disability.
What are the benefits for my organisation?
People with disability can use the diversity of their skills, experiences and perspectives which are then reflected in the work that is produced and the decisions that are made.
Evidence has shown that employees with disabilities:
take less sick leave and stay in jobs for longer than other workers​,
have fewer compensation incidents and accidents at work compared to other workers,​
build strong relationships with customers​,
boost workplace morale and enhance teamwork,
positively shape & diversify workplace culture.
What can I expect?
Two initial consultations so that we get to know you, your team, your business and your priorities/timelines.
Provided ways to both build your capability and gain insights into disability inclusivity in your business.
Optional Inclusive Recruitment Training, Disability Inclusion Training and/or Disability Friendly Access Check.
Development of a prioritised action plan/roadmap, supported with guidance and tailored resources.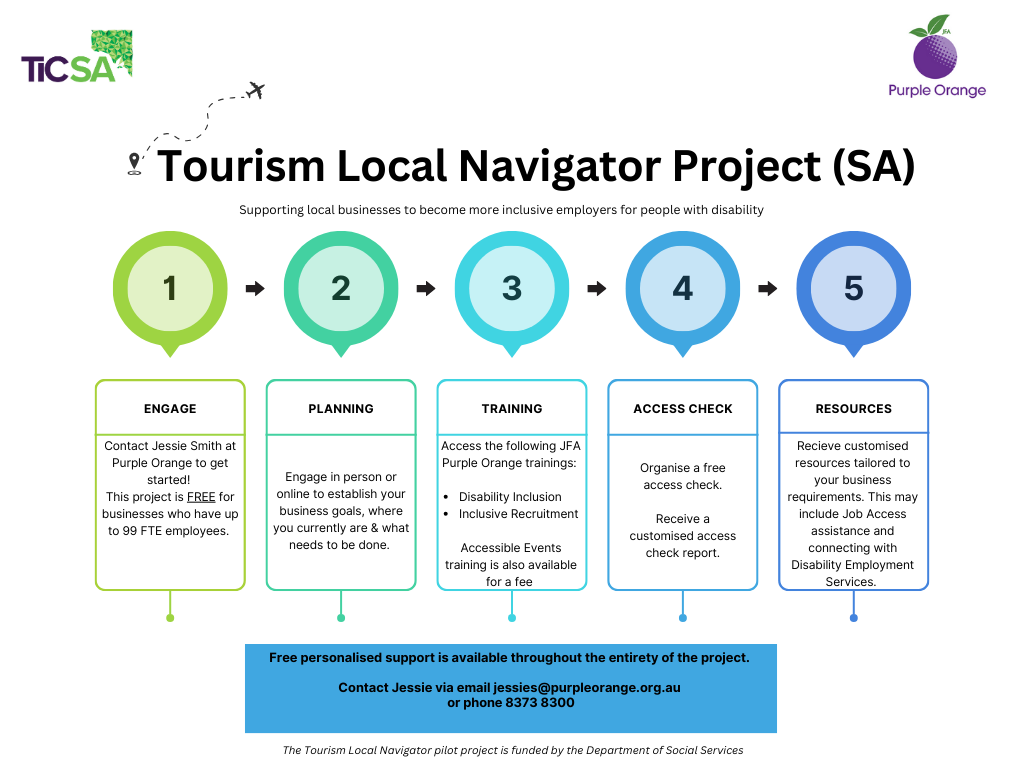 When and how much?
The project runs until June 2024, with support available right up to project completion.
There is no cost to business to be involved in the project.
Who can participate?
Small to medium sized businesses within SA with up to 99 employees in the following tourism industry sectors are eligible to participate:
Accommodation
Attractions
Events
Food and Beverage
Travel
Tourism and Information
Skilled Trades
If you are unsure if you meet the criteria, please ask.
Registration
Registrations for businesses to be part of the project are now open. Please contact Jessie Smith at jessies@purpleorange.org.au or phone 8373 8388.